If you need support with your confidence, skills, training, qualifications, and employment, the
Pathways to Employment, Education, and Training Programme can help you.
Our support is quick to access, free to use, and matched to your needs.
We can help you to:
Build your
skills
With our education and
training advice
Increase your confidence & wellbeing
With our specialist
support
Find
a job
With CV, interview and
careers advice
If you're 16-24 and can answer 'yes' to these statements, then we are here for you:
I'm unemployed and not in education or training

I live in Barking & Dagenham, Bexley, Bromley, Enfield, Greenwich, Havering, Newham, Redbridge, or Waltham Forest

I'm homeless, at risk of being homeless, a young carer, a lone parent, in debt, involved in criminal activity, or substance misuse.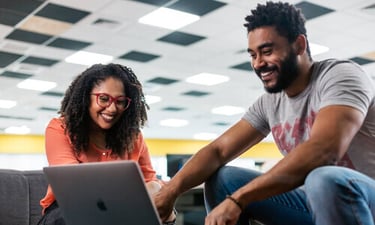 Call us today on 0300 456 8139
Work with us
If you are an employer, visit our dedicated partner portal to find out how we can help with your recruitment needs.
If you would like to work with us, join our Community Partnership Network by visiting https://www.maximusuk.co.uk/CPN
We've already helped thousands of people

like you
"I'm

very happy

with the customer service that I have received from Lesley at Maximus. She was

very supportive

, kind, caring, and understanding throughout my journey, and helped me with the issues I faced."